When I'm engaging in a consultation with my wedding clients to go through ideas for their floral décor the time of year of their wedding (along with budget) will be one of the biggest determining factors in the type of décor we use. It is incredibly important to me, as a floral designer that I capture the spirit of the wedding my couples would like to create while at the same time guiding and advising on what will work best for the different spaces, depending on the season. How do you want your guests to feel, where will the photos be taken, can we reuse the ceremony flowers in the reception space and the importance of flowers on the day are just some of the topics we will chat about in relation to the décor.
During these times of change and uncertainty a lot of couples have had to change their wedding date, many to a completely different time of year than originally planned – if this is you, please don't worry, your day will still be everything that you wanted it to be - filled with love and happiness - every season in Ireland brings its own unique offerings and with gorgeous flowers available all year round, it will still be as beautiful as you originally planned.
Winter
The quiet and calm of a winter wedding can be where the ethereal beauty of simplicity is achieved so use as much – or – as little décor as you would like. Winter weddings to me are cosy celebrations. Glowing fires, warm fabrics and guests snug indoors with candles burning and comfy blankets on laps. There will be lots of flower colours available but the most popular ones for my clients are either single or mixed palettes of white flowers or of deep reds and burgundies with both including an abundance of lush greenery. Greenery looks so beautiful for a winter wedding as it adds dept and texture and when paired with lots of candles, creates a beautiful, warm atmosphere – trailing bouquets, flowing garlands and overhanging displays are some of the ways to incorporate the richness of foliage to your décor.
A lot of churches do their own décor for Christmas so if your wedding is during the festive period it is a really good idea to talk to your church and better still, if you are planning over 12 months in advance to visit the church at Christmas time to see what is there – this is so you don't order floral décor that is already there, have colours that clash with what you will be using or if you need to arrange to have some items moved until after your ceremony. This is the same for hotel venues – they will usually have their own décor set up which can be really beautiful, but just make sure that what you will be adding will compliment what is already there.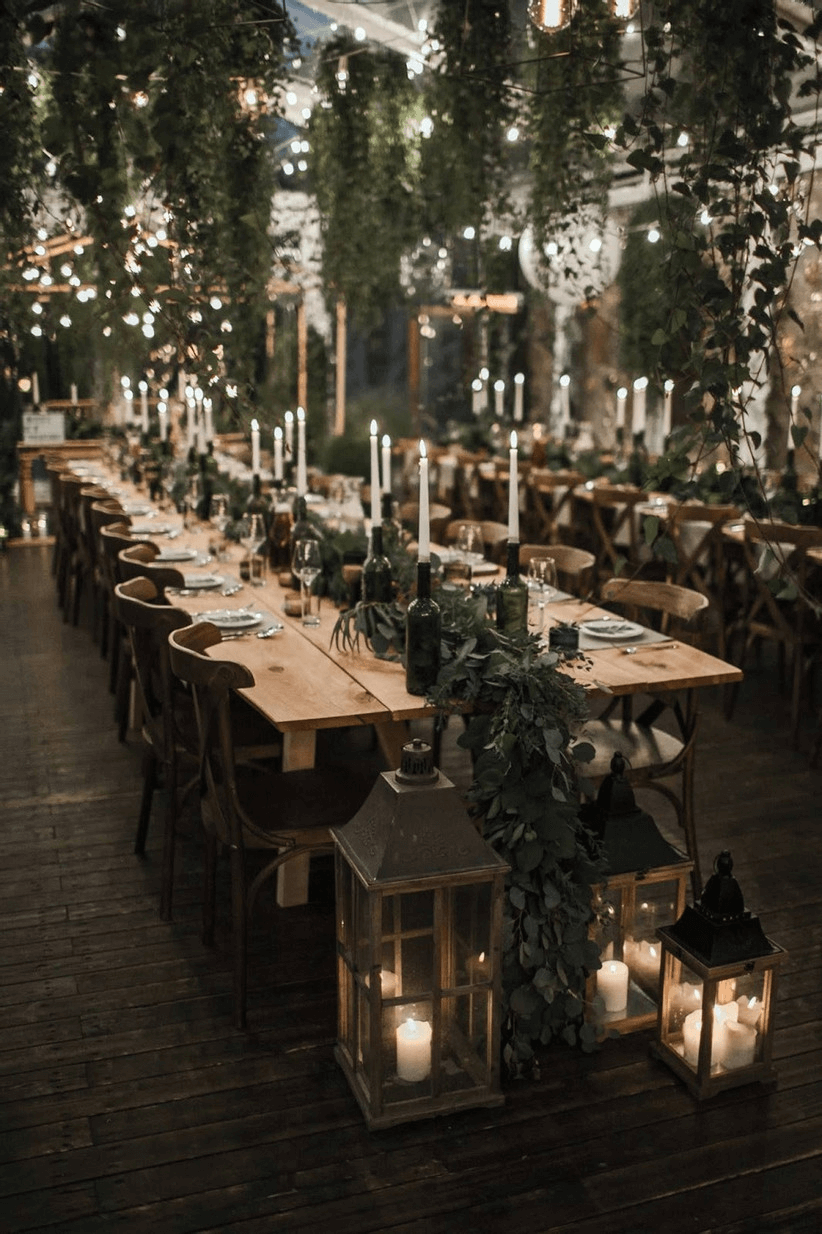 Image credit: Pinterest
Spring
In spring crisp days are filled with the sight and scents of flowers emerging from the ground, bringing hope for a good year ahead. Spring colours lean towards whites, yellows and pale blues and the décor for this time of year compliments this – fresh, loose arrangements and gorgeous spring flowers. As the weather in spring is still really unsettled a lot of my clients opt to keep most of the décor indoors, with the exception of arrangements to the church entrance as this creates a lovely entrance for your guests when they arrive (instantly inviting them to join the celebration as soon as they appear) and is a lovely place for photographs. In early spring the days are not yet mimicking the long, light filled days of summer so candles are a beautiful addition. For table décor, glass vases full of spring beauties with lots of candlelight reflected is fresh, bright and beautiful and with the scent of perfumed narcissus filling the air – a magical atmosphere is created.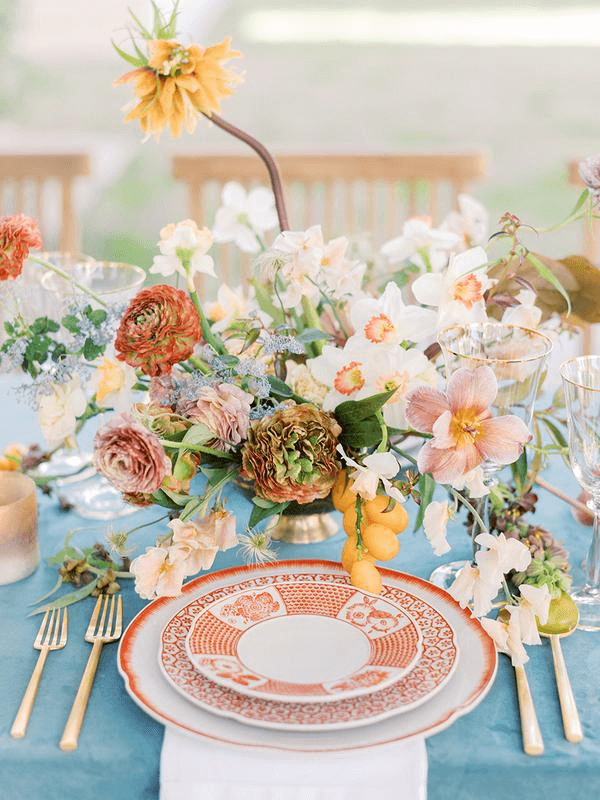 Image credit: Luna De Mer Photography Flowers: Kelly Lenard
Summer
As the season moves into summer, the possibilities for outdoor décor come into their own – floral arches as ceremony backdrops and entrances to doorways, urns overflowing with gorgeous summer flowers and for a more rustic look, churns brimming with seasonal flowers are really popular, especially for country weddings. For outdoor ceremonies there are additional options including flowers hanging from chairs along the aisle, drinks reception flowers, blooms adorning the ropes of a swing, flowers in pretty glass jars hanging from trees as a lovely place to stop for a photo….. floral décor outdoors has the incredibly ability to tie in multiple areas and make them as one big space for your guests to enjoy. Indoors an empty room can be brought to life with beautiful floral centrepieces, cutlery, candles…. I love the look of a room when both the sunlight and the candlelight light are bouncing merrily along the shiny, silverware, polished glassware and twinkling back from the surface of the centrepiece vases …. It makes you feel warm and welcomed and lets you and your guests know you are all going to spend a beautiful and delightful time spent in the room.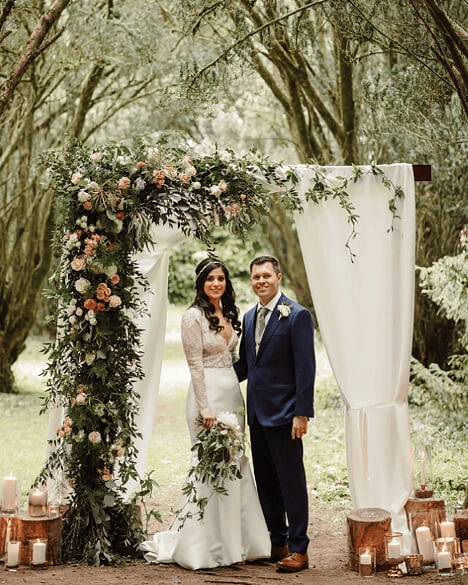 Image credit: Lima Conlan Photography Flowers: Soah Flowers
Autumn
Autumn, beautiful autumn…. a little quiet, a little sleepy and at the same time an explosion of warm colours – it feels like nature is giving you a big hug while preparing you for the stillness of winter. Autumn brings shorter days and no guarantee of good weather, so most couples opt to keep most of the décor indoors.
While an single or mixed autumn colour palette of browns, oranges, reds and mauve doesn't always conjure up images of romance and beauty – it really does have this effect – you are bringing the lifeforce and energy from outside – inside – by celebrating the changing of the seasons and creating a romantic atmosphere that lovingly thanks the summer for all of its abundance while being grateful for the harvest of the autumn. Seasonal additions to the décor at this time include berries, nuts (I have used sweet little hazelnuts many times), seed pods dried grasses and flowers. Pumpkins might feel a little clichéd but there are many alternatives to the big yellow ones we see – now you can get gorgeous and unusual miniature ones in many shades which look lovely added to the table décor.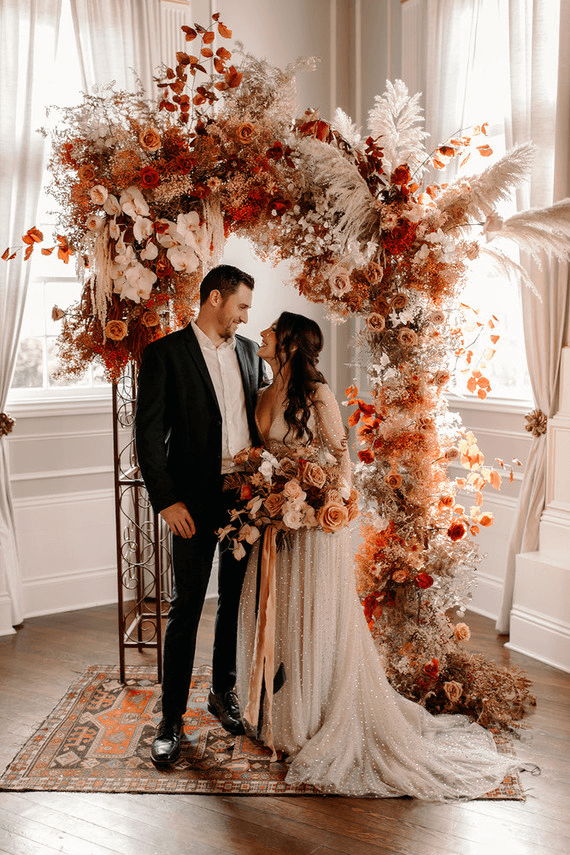 Image credit: Monique Serra Photography Flowers: Brier + Ivy
If you are planning your wedding over a year in advance then you have a great opportunity to view things how they would be at the time of your event – You have time to look at nature, at the flowers available in shops, how venues look and think about how best you would like to capture it and bring it all together for your day – and as always your floral designer will be on hand to guide you on your wedding journey.