Things to Do
Situated in the heart of Ireland's Ancient East, Kilkenny, Ireland's Medieval Capital is perfectly located and connected for domestic and international visitors, just 90 minutes from Dublin, two hours from Cork, and three hours from Belfast.
From culture to craft and everything in between, a visit to vibrant Kilkenny is always a memorable experience. From couples breaks and girly getaways to family get-togethers, there is something for everyone!
You can wander along the cobblestone streets on Ireland's Medieval Mile discovering medieval magic at every turn, and explore the rich countryside taking in the scenic views, exploring woodland walks and monastic ruins.
The Magnificent Kilkenny Castle and 50 acre parklands is just a short stroll from Butler House through the Castle Yard, and the 'What is Metal?' Exhibition at the National Design & Craft Gallery is running until July 27th - is a must-see if you are passing through!
Our sister property The Medieval Mile Museum is a wonderful place to start your Kilkenny Adventure for a fantastic introduction to the city's rich history. Guided Tours and a City Walking Trail run daily and come highly recommended.
Enjoy a relaxing private boat tour on the River Nore while taking in the scenic views with Boattrips.ie.
You will be spoilt for choice sampling the best of local cuisine with our many award-winning restaurants and bars, and shoppers will delight browsing the many bespoke boutiques and craft shops. If you are visiting on a Thursday, you will find a fantastic selection of local produce and crafts at the weekly Famers Market on the parade just at the Castle.
For those who like to escape the hustle and bustle for a couple of hours a visit to Woodstock Gardens in the picturesque village of Inistioge is a lovely way to spend an afternoon. There are also many more beautiful walking trails and cycling trails in the city and around the county, and you can find more information at Trailkilkenny.ie.
We have covered some of our recommended activities here to give you some inspiration when planning your visit, and do make sure to stop by the reception at Butler House on your way out to explore, where the team are would be happy to share their local knowledge on more great things to see and do!
For more information on things to do, Visit Kilkenny have put some great online guidebooks together here.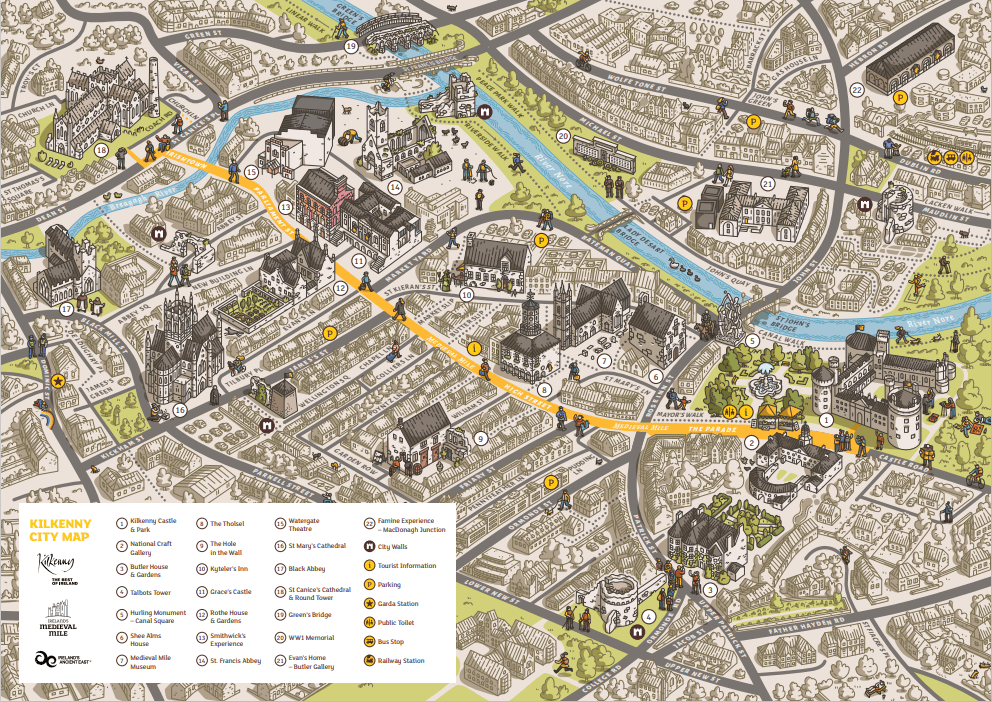 You can download and print the City Map here.