There really is something to be said for intimate weddings, and nowadays these unique ceremonies are on the rise. Ireland has always been an idyllic location for elopement and small weddings, its culture has always been about family and celebrating each other. For many couples it's a spirit of adventure which brings them to Ireland, and the opportunity to immerse themselves in an ancient tradition of family celebration, making their wedding day a truly deep and meaningful experience.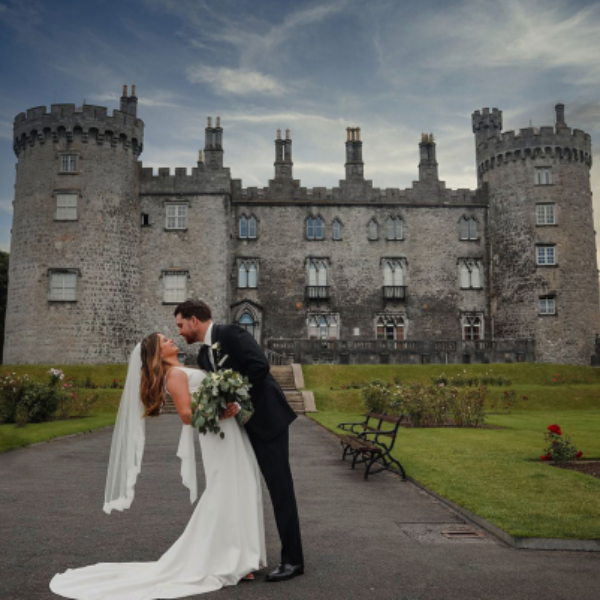 Historical Kilkenny Castle is just a stone's throw from Butler House
As far as venues go for elopements in Ireland, Butler House is truly one of the most special for smaller affairs. Tucked away in Kilkenny city, Butler House was long ago, the Dower House of Kilkenny Castle. With stunning views of the Castle, the House exudes the elegant charm of Ireland's Ancient East. The essence of its rich history can be felt throughout the property, from the House's architecture to the scenery in the beautiful Walled Gardens.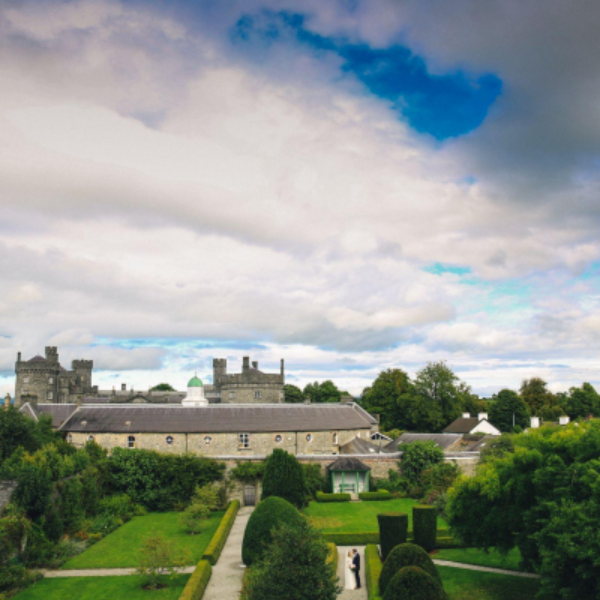 Butler House and Gardens with Kilkenny Castle in the background
Choosing Butler House as your intimate ceremony venue, marries the historic with the contemporary in the most perfect way. Within the walls of the House you will experience a refined, elegant and exclusive experience.
Kilkenny - a vibrant city in Ireland's Ancient East
Just outside the walls however, you will be met with the electric energy of Kilkenny city. Here you will have your choice of old Irish pubs, bars and excellent eateries. As well as this, there is never a shortage of activities to enjoy in Kilkenny.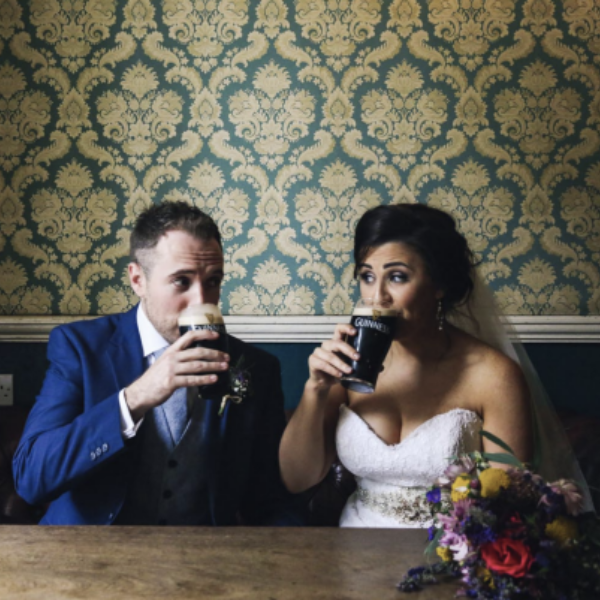 If you're looking for a relaxed experience, take a trip to the Barnstorm Theatre Company, have a drink at the Smithwick's Experience or take one of the Kilkenny Foodie Tours.
For the more adventurous at heart, try having a spin on the River Nore's hydrobikes, take a shot at paintballing in Kilkenny Activity Centre, or paddle your own canoe on the river.
Kilkenny is also very close to Dublin city centre, only a 90 minute drive away so taking a day trip to Dublin is also an enjoyable activity while staying at Butler House.
Your Wedding at Butler House
The relaxed and welcoming atmosphere within Butler House and its Gardens truly washes over you from the moment you arrive, setting the tone nicely for your intimate ceremony. For most people, the luxury of being a VIP is an essential element of their wedding day.
This comes naturally at Butler House and extends to everyone who walks through the doors, from Bride and Groom, to wedding guest. No two ceremonies held at Butler House are ever the same, something that they pride themselves in wholeheartedly.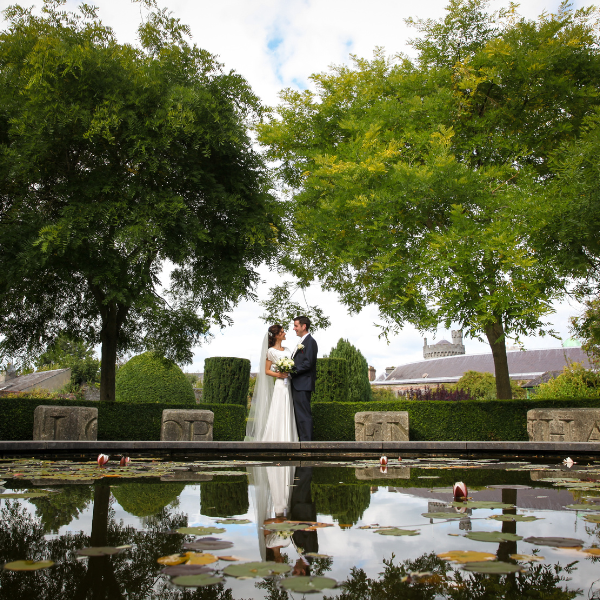 If elopement is what you have in mind, they will create a stunning, intimate ceremony for just the two of you that you will never forget (elopement is their speciality after all).
On the other hand if you are looking to have something a little more grand, they will create your ideal ceremony for up to 65 guests, making sure that your day is exactly how you always dreamed it to be. The House offers different locations throughout that you can hold both your ceremony in.
Plasterwork ceilings and bow windows await you in their fabulous function room, or if an outdoor location is more for you, you can say your "I do's" in a private ceremony in the Georgian Walled Gardens.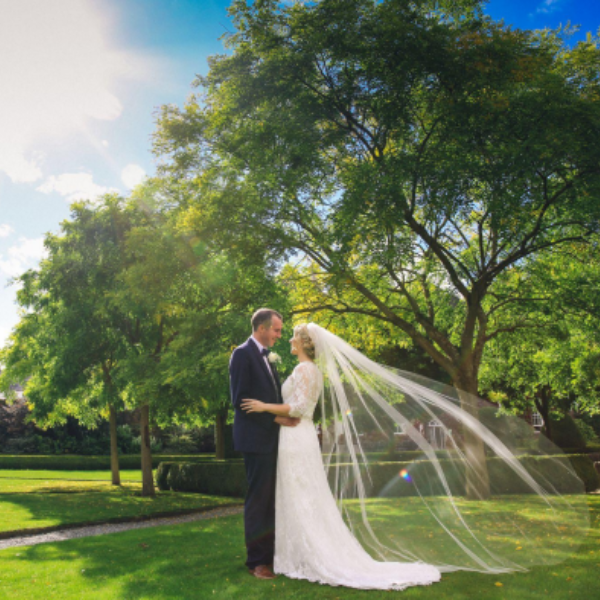 Photography at Butler House
When it comes to photography there are plenty of locations within Butler House that will be sure to bring together a stunning and unique wedding album. The private Walled Gardens are an idyllic backdrop for the perfect wedding pictures, no matter what season you choose. The stunning interior décor of the House itself also always provides beautiful pictures that exude both luxury and heritage. Nick O Keeffe photography is one of the photographers that is very familair with Butler House. All imagery in this blog has been taken by him.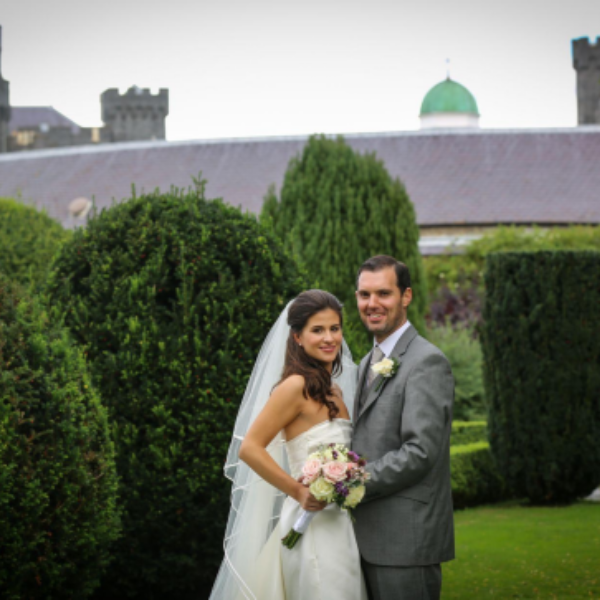 Venturing outside of the House then, Kilkenny Castle is undoubtedly an unforgettable setting for pictures. Photographs taken on St. John's bridge will have a backdrop of the grand castle and the River Nore, or you could take a walk down the stunning canal and capture some quiet candid moments.
There is also no shortage of small streets and quiet spots throughout the city to capture the unique magic of your day. Butler House brings style, elegance and exclusivity to smaller ceremonies, and does so in a way that you are sure to feel relaxed and at home on your wedding day.
Ceremony locations in the city
There are of course, other locations in Kilkenny that you can hold your ceremony in should you choose. If you would like a more traditional ceremony there are countless charming churches around the city. There are also two cathedrals for more of a grand affair. You also have the option of having your ceremony within the round tower of Kilkenny Castle, a truly unique and intimate setting for your special moment.
Local Wedding Suppliers
Kilkenny is home to some of Ireland's most talented wedding professionals, all with years of experience and local knowledge. Wedding suppliers like Lamber De Bie Master Florist, Vaiva Make Up & Beauty, Bridal Hair By Elaine, Murphy Jewellers, Folkster Bridal and Butterslip Kilkenny all provide an exceptional service.