Butler House Christmas Garden returns this festive season. This year Kilkenny Civic Trust in association with Carlow and Kilkenny ETBs (education training boards) invited local community groups to participate in creating Christmas decorations. These decorations are proudly displayed around the Christmas Garden for all to see. An array of Community groups participated in this project. Each group was provided with a tutor who helped them bring their creations to life.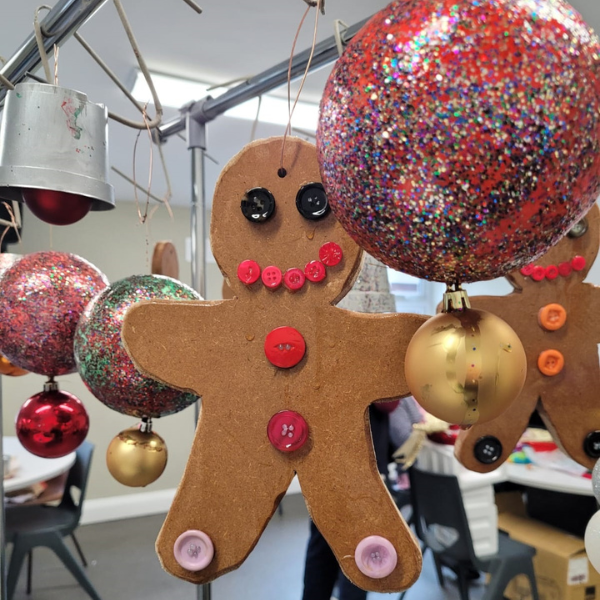 Ballyragget Community Hall Ladies Group is a group of very talented people who meet once a week to create some fabulous masterpieces, through knitting and crocheting. The ladies sell their products and make donations to charity through their work. One lady stated 'we are not afraid to try something new and were delighted to take on the challenge of decorating a tree as part of Butler House Community project. Joanne our tutor brought out the best in us and through an eclectic mix of old and new, we created our Christmas decorations for all to enjoy.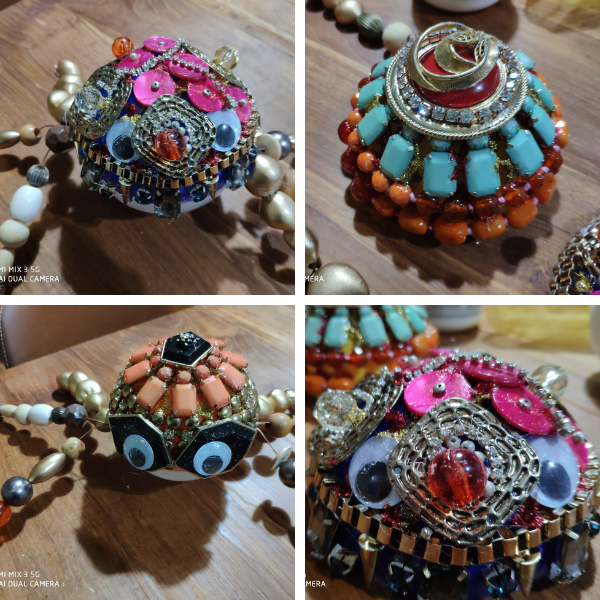 The Cois Nore Cancer Support Centre is a Kilkenny based charity that provides support for people living with a cancer diagnosis and their families. The service depends on voluntary support, donations and contributions from the people of Kilkenny and some support from the National Cancer Control Programme (NCCP) and The Irish Cancer Society.
As part of the service, the Cois Nore art and craft group runs weekly for those interested in developing art skills and expressing themselves through art. This programme is possible due to the support of the KCETB through the Arts and Culture grant 2022 and community education tutors.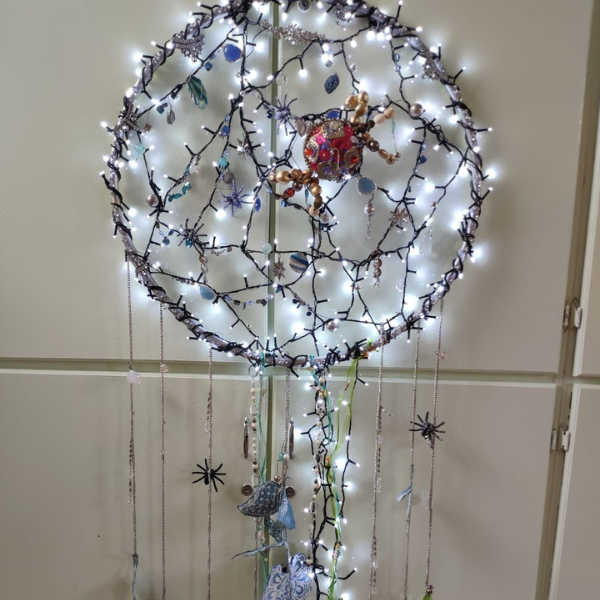 The concept for the Christmas decoration was inspired by the current war in Ukraine. There are two dreamcatchers. The blue and silver dreamcatcher and spiders aim to represent the Ukrainian people. The gold dreamcatcher and the St Bridget cross represent Ireland. The group is expressing its support, hoping that a dream for peace in Ukraine becomes a reality.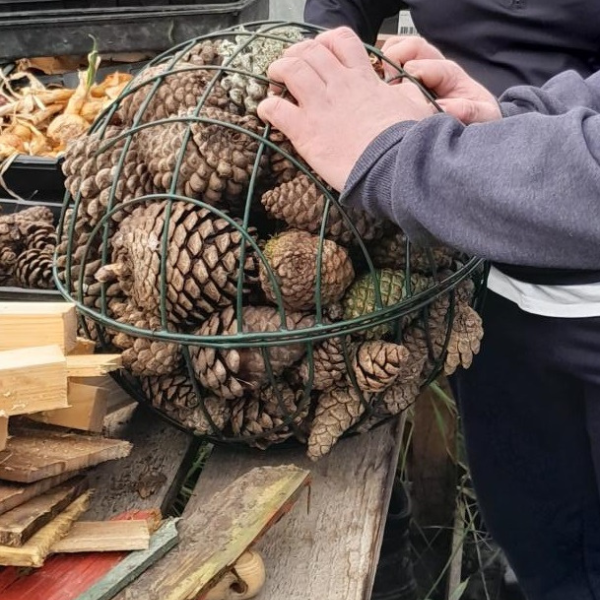 The Deenview inclusive Garden is a group of adults with intellectual disabilities and retired members of the local community, based in Castlecomer. This group comes together all year round to work in their garden, growing vegetables, and flowers. During the cold winter months, the group creates craft projects using materials from the garden. As part of the Butler House Community project, the group decided to use pine cones and old hanging baskets to make large Christmas baubles.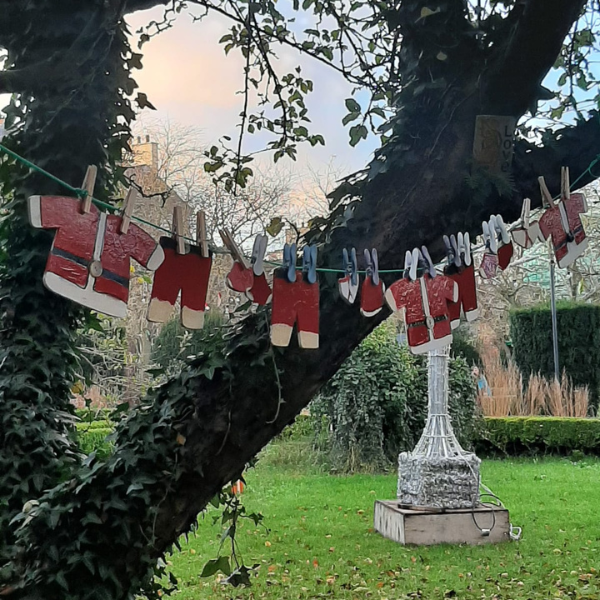 The HSE group was thrilled to take part in the Community project at Butler House Christmas Garden this year. The group came together and envisioned life at Santa's grotto on the North pole. While Santa and the elves are busy getting all the toys ready, Mrs. Claus had to make sure that everybody was happy, well-fed, and clean. The HSE group created Mrs. Claus's washing line incorporating reused and recycled plastic.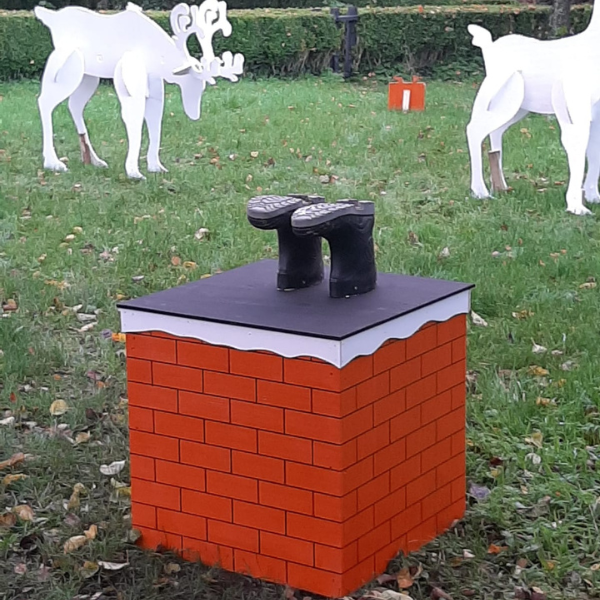 Irish Wheelchair Association Callan Community Group and Kilkenny Irish Wheelchair Association Community Shed came together to create these magical Christmas crafts which include Santa's washing line and Santa's legs stuck in the chimney. The idea behind the creation was to bring imagination to life. Christmas is a very special time of year, and this Community group project created a togetherness among the groups, that was magical.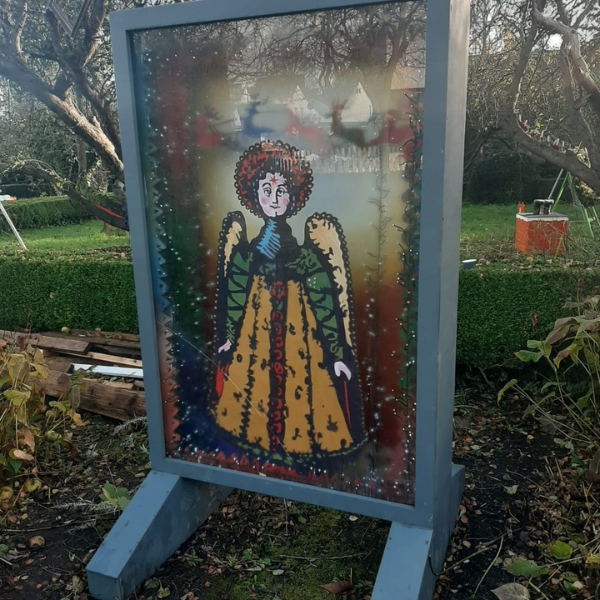 The residence of Mount Carmel- Supported Care Home has painted Christmas icons reminiscent of medieval times as large Christmas decorations. They painted on the plastic with images of Mary, Jesus, and St. Nicolas using gold as the background and halos to give icon imagery. These glorious images give a light of hope during this festive season.
National Learning Network is Ireland's leading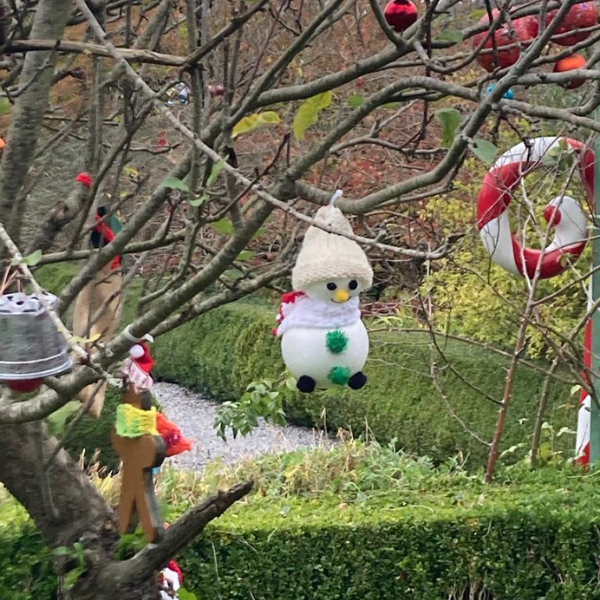 training, education, and employment placement organisation. They provide training and support to people, who for a variety of reasons, may find it difficult to get employment. At NLN Kilkenny they love being in the heart of the city where students can integrate within the community. This year NLN got involved in the Community project at Butler House Christmas Garden. They designed and created some decorations to hang on the beautiful trees in Butler House for the festive season.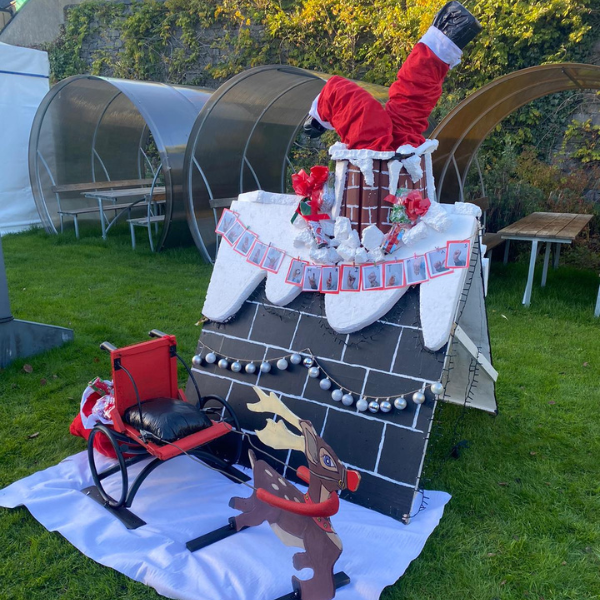 RehabCare Kilkenny is a service that supports adults with disabilities. The group came together, both service users and staff, to create a Christmas project that will highlight the importance of people with disabilities in our community and promote inclusion for everyone. Their project is also an example of how the use of discarded materials can be transformed into something beautiful. Working together as a team, they created 'Santa's Wheelchair Sleigh' to highlight positive disability awareness.
Leeside House is a home for men with intellectual disabilities. At present, there are two men in residence. They came together to collaborate on this piece of art for Butler House Christmas project. One of the residents is non-verbal and presents with Autism. The project is a way for these two men to be part of a wider community by displaying their work alongside other groups. It also provides a space for their families to view their work in a natural setting. It is an opportunity to show they are more than their disability. They have used recycled materials in their work for years and found this a great opportunity to showcase that.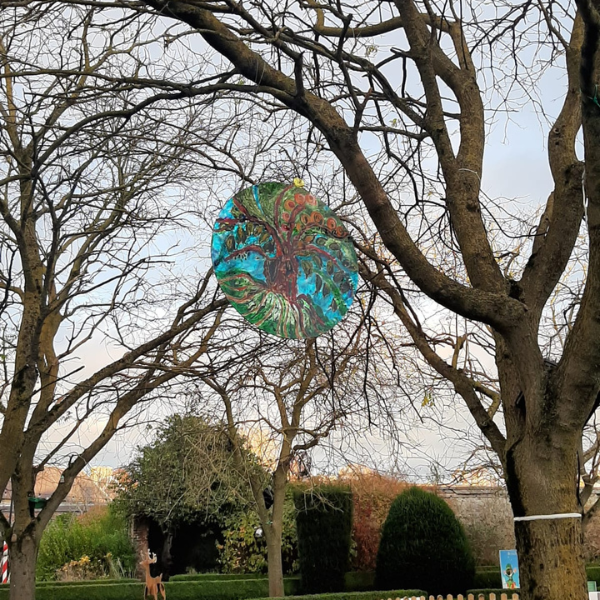 TASK (Training and Support, Kilkenny) is part of a community-based mental health service in Kilkenny. As their contribution to the Community project, they completed two large circular Christmas decorations. One is a piece of Perspex painted with the image of the Tree of Life, and the second piece is a compilation of smaller individual circles made by members of the group using mixed materials. The image of the circle represents the cycle of time and life and the individual journey of recovery.
The Community group project is a fabulous addition to the Butler House Christmas Garden. It has brought Community groups together in a magical way. Kilkenny Civic Trust in association with Carlow and Kilkenny ETBs, is delighted to be involved with this powerful project representing inclusion and community.